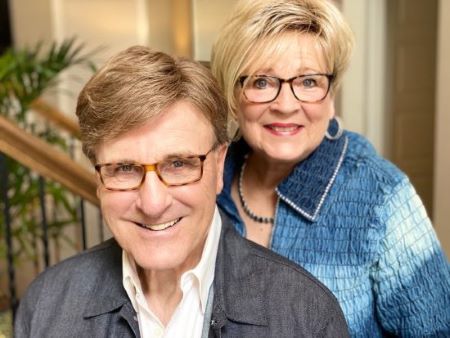 Brrrr….it's a bit nippy here in Nashville.  It got down to 18 degrees here last night, and we have had three snowstorms in the last three weeks leaving 16+ inches of snow behind, but thankfully it has all melted away.  For a minute or two, I thought we were back in South Dakota!  In reality, as I talked to our home office in South Dakota, this would be a heat wave compared to the temperatures, wind and snow they have been experiencing back there.  It's all about perspective!  People used to say, "The older you get, the colder you feel."  That is true, and that is exactly why people go SOUTH for the winter!  If the birds have a brain and are smart enough to fly south, shouldn't we?  LOL!
It is hard to believe that this first month is almost history.  Due to the pandemic and not traveling, we are thoroughly enjoying our ministry through COFFEE & CONNECT.  We have had responses and input from all over the United States, Canada, Spain, Africa, Bahamas and Hawaii.  COFFEE & CONNECT has been a great avenue of reaching and ministering to the lost and hurting. 
Last week, on COFFEE & CONNECT, I shared a personal testimony of a miracle that took place in my life and I pray you will listen to it as it will give you hope and encourage you….share with a friend.
I also wanted to make available my January message from our mail newsletter available to you.
HERE IT IS AGAIN....READY OR NOT!
A New Year! For some reason the twinkling tree lights don't seem to twinkle like they did before Christmas. The garbage can is filled with torn and crumpled Christmas wrapping and smashed bows. Leftovers fill the fridge and some snacks that we just had to have for the festivities are no longer fresh and enticing. Even those delicious cookies that were so delightful and melt in your mouth now taste stale so out they go. It all signals that Christmas is over and it is now time to find placement for the gifts we graciously received during Christmas.
My memory goes back to my precious mother-in-law and father-in-law. They didn't have much extra monetarily so we always tried to give them something for Christmas that they just wouldn't go out and buy. In hopeful expectation we would await their response and it was almost always the same response, "Oh, it's so nice…it's too nice to wear or use." We would readily encourage, "Use it! Wear it! If you wear it out, we will buy you another one." We would enjoy our time together and like a flash our Christmas vacation days were gone. It was out on the road again for 320-340 days a year. Several years ago after they had both passed away, Larry and I took a crew out to the four story farmhouse to clean it out. Wow!!! We worked our way up to the third floor arriving at the base of the attic staircase. We pushed up on that old door, braced it and carefully tiptoed into the attic of mysteries. To our surprise (or disappointment), before us were multiple shelves holding boxes and boxes with festive Christmas wrap, ripped but still clinging—box after box after box. Seriously there were dozens! Upon closer investigation, we discovered the boxes held years of Christmas gifts still gently nestled in the Christmas tissue—nightgowns, housecoats, purses, blouses, sweaters, appliances, and many of Larry's father's gifts as well. There they were all gathering cobwebs and dust from sitting unwrapped, unworn, unused. As I replayed the memory, it honestly stung a bit. They could have used and enjoyed the gifts, but they were "too nice to use".
I think of the beginning of the new year where millions make new year's resolutions. Many pray, "Oh God, I want to be used. I want to be an instrument. Please open doors. Give me wisdom and knowledge. Give me talent." And yes…God does answer those prayers! He opens doors, allows opportunities to use their gifts and what do so many do? They respond, "Sigh…God, that's not what I wanted. I don't want to do that. I can't do that as good as so and so. They won't appreciate it." Sadly and tragically, they throw these unused gifts that God has gifted them and shove them up into the spiritual attic of their lives.
Please let me take a moment to remind you, the happiest people are the active, giving, serving, joy spreading people. Your church needs you. Your neighborhood needs you. God needs your God-given gifts to reach out and encourage others. Make phone calls. Physically help and serve people. Visit the lonely. Help the less fortunate. God wants you to share Christ—the very simple Gospel message of salvation. Don't shove it in the attic. Get involved!  "As each one has received a gift, minister it to one another, as good stewards of the manifold grace of God." 1 Peter 4:10 "There are diversities of gifts, but the same Spirit. There are differences of ministries, but the same Lord. And there are diversities of activities, but it is the same God who works all in all." 1 Corinthians 12:4-6
*By the way, I confess…I have been guilty of some of the above. Today is a day to put things to action!
GLORIA
---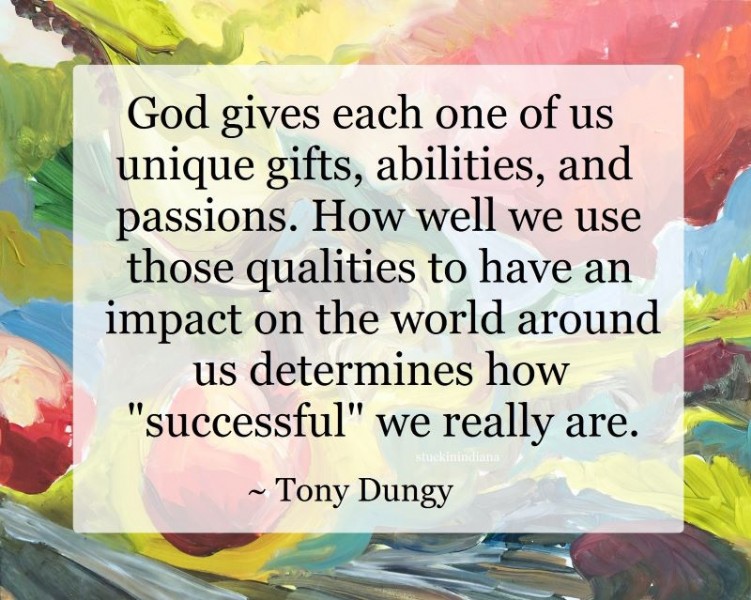 ---
RECIPE
Mighty Football Stew
2 lbs beef (cut in 1" cubes)
5 medium potatoes, cut in large pieces
5 medium carrots, cut in large pieces
2 medium onions, chopped
1/2 pkg dry onion soup mix
1 can tomato soup
1 can cream of mushroom soup
Put meat and vegetables in a large casserole; add the soups and mix together.  Cover tightly (very important) and bake at 250-275 degrees for 4-5 hours!  Uncover and enjoy a hearty stew!