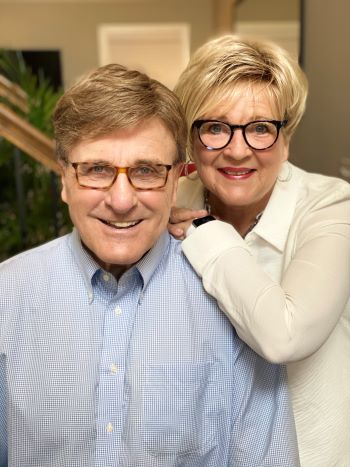 It is so hard to believe that Mother's Day is quickly approaching!  This year sure seems to be flying by.  As I look back on the prior months and the challenges that we have had with Larry's surgery and recovery, I can look back and  say how thankful I am for my mom, Julie Brooks, who was integral in teaching me, guiding me and most importantly, showing me how to love and lean on Jesus! ( miss her so!)  As we have faced some hard moments and some great joys recently, my mom helped build in my life a solid foundation on which to stand because she showed me that Jesus is the only Rock we can count on each and every day!  I think  of the words to an old song written in 1834:
My hope is built on nothing less
Than Jesus' blood and righteousness
I dare not trust the sweetest frame
But wholly lean on Jesus' name
On Christ the solid rock I stand
All other ground is sinking sand
All other ground is sinking sand
In today's COFFEE & CONNECT LIVE, Larry and I both share on the memories, the characteristics, the sacrifices and the legacies our mothers made.  We are who we are in part due to their love, their prayers and their influence in our lives.  And I just want to take a moment to say, "Mom.....you are needed.  You may not feel seen, you may feel like you aren't making a difference, you may have a broken relationship with your kids, or you may feel like a failure in this moment of time, but please know this....God made you to be the mother of your children.  He chose you for this time and this moment!  You are exactly who they need in their lives!"  I am praying for you that you will know how important you are and that every prayer you pray for your children isn't wasted----if not you---who will pray for them?
If you would like to watch the CCLIVE video from today, here is the link to do so:  
I wanted to share with you my article from the newsletter this month---A Mother's Love.  Enjoy!
Growing up in a rural community with our town's population "pushing" 3,000 people left lots of room for imagination and creativity. We didn't have all the extra entertainment a larger city could offer. For that reason, my father always made sure we had enough to keep us busy and occupied, or as he would say "keep us out of mischief." 
 Our big old two story house sat on a quarter city block and the other fourth of a block was our huge family garden. My brothers and I were convinced that Dad planted enough string beans to feed all the hungry all over the world. Much to our dismay, we had to pick those beans day after day all summer long. (Not our favorite thing to do!) Alongside the garden was a little chicken coop that my grandfather and Dad built to house the chickens to satisfy the "itch" my dad had for a little bit of a farm life environment around him. He had grown up living in the western plains of South Dakota. One year Dad bought Bantam chickens. If you know anything about these chickens, they are little, full of spitfire and definitely hot-tempered birds. Even so, I enjoyed having them…most of the time. It was my daily chore to have a regular hunt for eggs as I tried to collect eggs but had to first figure out where they would lay them. They would never lay them in the chicken coop. They laid them under bushes, old tires, in rotting tree trunks, along ditches, in the flower garden… everywhere but the chicken coop! I loved to gather eggs, but it didn't take me long to learn that these chickens were very protective and possessive of their chicks. They would "fight" for their brood! It didn't make any difference how big we were. If we crossed their territory or entered into their arena, the mother hen would drop her wings, puff up her feathers and make a beeline for me. She would let out a terrifying squall and would hit the ground which signaled to the chicks to run and hide in all directions. She would then proceed to fly up in the air, pick at me in her attempt to detour me from her precious chicks and nest. Many times, I would get so angry, I would want to reach down and twist her head, but I knew that wouldn't make my father very happy.
It is amazing how time changes things! Now years later, I identify with that mother hen. When I see the enemy coming at my family with temptations and problems trying to wrench them away from God, I find myself like that Bantam hen. By nature I am pretty easygoing—until my family is on the line, then I come out fighting. Larry and I realize the devil is out to destroy families and relationships, and we are no exception. But…we have the KEY! 1 John 4:4 "Ye are of God, little children, and have overcome them: because greater is He that is in you, than he that is in the world." Luke 10:19 "Behold, I give unto you power to tread on serpents and scorpions, and over all the power of the enemy: and nothing shall by any means hurt you."  If there is any work of the enemy in my family's past that seeks to encroach upon the life of my family or your family, we can break it by the power and authority given to us in Jesus Christ. It's ours. It's free. It works. Let's use it!
GLORIA
---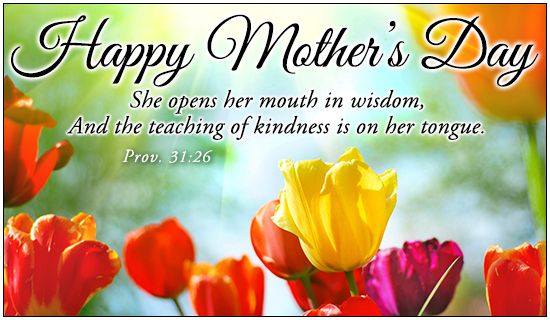 ---
RECIPE
This would be a yummy recipe for a Mother's Day brunch!  
Streusel Coffeecake
2 cups flour
1/2 cup sugar
3 tsp. baking powder
1 tsp. salt
1/3 cup butter
1 cup milk
1 egg
STREUSEL TOPPING:
1 cup nuts
2/3 cup brown sugar
1/2 cup flour
1 tsp ground cinnamon
3 Tbsp firm margarine
Heat oven to 350 degrees.  Prepare streusel topping: mix all ingredients until crumbly.  Set aside.
Mix cake ingredients in a large mixing bowl with mixer on low speed for 30 seconds.  Beat on medium speed for two minutes.  
Spread half of batter into greased 9x13 pan.  Sprinkle with half of the streusel.  Top with remaining batter.  Sprinkle with the remaining streusel.
Bake 35-40 minutes.