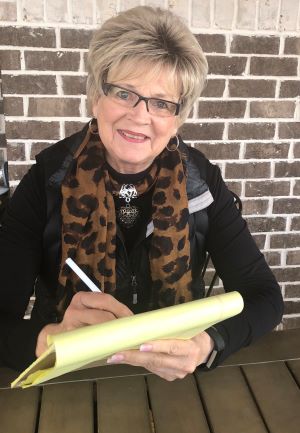 Hello from the balmy beautiful Smokey Mountains of Tennessee! There is something that is so breathtaking about this country. Today the brilliant blue sky is peppered with clouds that appear like bits of pure cotton are hanging in the heavens. We love it!
We also are loving the opportunity we have been having to connect with many of you through the avenue of our new outreach, "Coffee & Connect LIVE" taking place in our Facebook group, Larry Lundstrom Ministries, on Wednesdays at 11 AM. Whether it is just Larry and I sharing tidbits we have learned on the road, a funny story or a Gospel message OR if we are hosting special guests like Pastor Londa Lundstrom Ramsey, Pastor Jeff Nordin or Pastor Darrell Worley who all have shared such excellent bits of truth, wisdom and life, these times have been such a joy to us. If you would like to be a part, you can ask to join the group on Facebook OR you can go to our website here and catch up on the LIVE's that we have done thus far.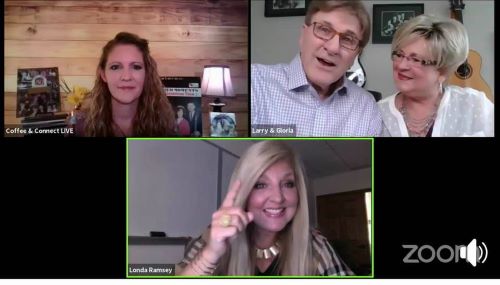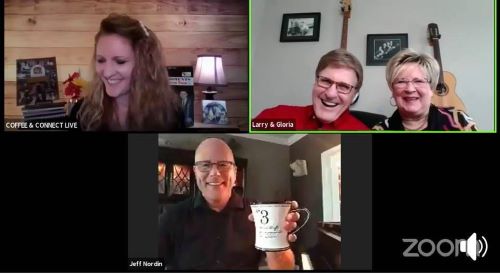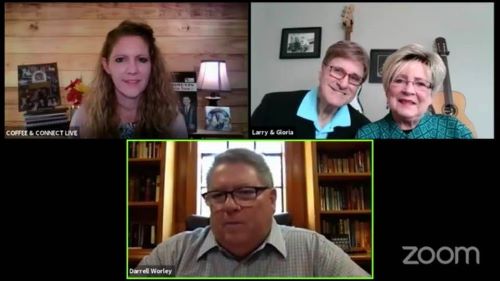 To be completely honest, life isn't quite what we thought it would be right now as we are still enduring this Covid-19 crisis. Last March, we all thought that we would shelter-in-place for two weeks and then everything would go back to normal and life as usual would resume. Sadly, this has not happened. Covid-19 has taken its toll on numerous aspects of life, in so many lives all over the world. We expected to be out traveling and ministering this summer but instead we are stretching into new avenues of ministering for a time.
As our area has been hit quite hard by the virus, Larry and I quickly learned not to fear, but to be smart, cautious and take care of ourselves. We had to move from fear to faith in God. He is the answer! We need to divert°adjust°.change our minds from CRISIS to CHRIST. He is our HOPE, our PEACE, our PROVISION---He is the great I AM! HE IS AND WILL CONTINUE TO BE!!!
That doesn't mean however that we haven't had some days or even weeks where we want to say, "That's enough God. That's all I can handle right now." Yet°.even when having "One of those days°.or weeks°." We know we have a choice in how we handle the hard.
We hope this article will minister to you!
"One of Those Days"
Have you ever had "one of those days"? A few days before Larry and I were married, my mom sat down with me at our little kitchen booth to share a few survival tips for marriage. She was trying to inform me that not all days will be "sweet tea and red roses"! She addressed me, "Missy, you will be living in an old bus (1948 Flex Bus.) There will be two couples and two children°one a toddler and one two-years old. They will all have their own individual personalities. And let me remind you, there will be the sweet good days—and some bad ugly days. There will be genuine reality moments when everything that can go wrong will go wrong and remember you can't run away when the bus is going 55 mph down the road. You could get hurt! (chuckle)" Then she capped our conversation with, "Just remember, you will have 'one of those days'. And let me remind you of two things: 1-You will make it! 2-Learn to zip your lips so you won't cause unfriendly fire!"
At the time, I thought this was all kind of funny so I chuckled. About two years later, after coming home off a five month tour which had included numerous bus breakdowns and untold problems (lots of them), I reminded Mom of our previous conversation. Again she chuckled and I said, "Mom, you said I would have 'one of those days', but you never told me how many of 'one of those days' I would have. She nodded her head and smiled, looked me square in the eye as if to congratulate me and said, "Missy, you made it and you will keep making it. You know why? Because you have to!"
The following story so describes me, Gloria Lundstrom, numerous times in my life.
The problem began when Chippy's owner decided to clean Chippy's cage with a vacuum cleaner. She removed the attachment from the end of the hose and stuck it in the cage. The phone rang and she turned to pick it up. She'd barely said, "Hello" when "Ssssop"! Chippy got sucked in. The bird owner gasped, put down the phone, turned off the vacuum, and opened the bag. There was Chippy°still alive, but stunned. Since the bird was covered with dust and soot, she grabbed him and raced to the bathroom, turned on the faucet and held Chippy under the running water. Then realizing that Chippy was soaked and shivering, she did what any compassionate bird owner would do? She reached for the hair dryer and blasted the pet with hot air. Poor Chippy never knew what hit him. A few days after the trauma, the reporter who'd initially written about the event contacted Chippy's owner to see how the bird was recovering. "Well," she replied, "Chippy doesn't sing much anymore. He just sits and stares."
Have you ever felt like this is your story? At times, it feels like you are whistling through life one moment singing a song and the next minute, you are caught up in a whirlwind of devastation. Life seemed so good until one day this past March when the whole world changed almost overnight as Covid-19 and its fallout invaded our lives. Maybe for you, it was an illness, loss of a mate, parent or child, a job loss, or facing isolation indoors alienated from all the normal things that made you feel so safe and secure. Then°boom° we were all sucked up and sucked in like Chippy the bird, washed up, and singed by disappointments that life hands out. These annoyances of life hit when we least expect them. Then what? We have to make a choice. Either groan or grow. In the midst of these devastating blows, satan would like to attack your faith, confusing you, making you doubt what you believe and sedate you with a "no hope" injection. What do you do when you don't know what to do?
First of all—don't take it personally like you are the only one in the world going through this because as you know, "everyone in the world is going through it." John 10:10, "The thief cometh not, but for to steal, and to kill, and to destroy: I am come that they might have life, and that they might have it more abundantly." The devil knows his days are numbered and he is on an all-out attack on everyone°it's not just you.
Secondly—don't give up. Don't panic and don't give in. Ephesians 6:13 says, "Having done all, to stand." Don't fall into satan's trap, don't listen to the voice that says, "you aren't going to make it", don't collapse spiritually and physically. Stand on God's Word that says, "I will never leave you nor forsake you." (Hebrews 13:5) I guarantee Jesus will be a shelter in the time of the storm.
Thirdly,—don't be like Chippy and let satan take the song out of your heart and life. Psalms 118:14, "The Lord is my strength and my song and He has become my salvation." I found that in my struggles the last several months, God continues to put a song in my heart and mind all day long. In fact, yesterday we were in the car going to get groceries; I was singing and Larry chuckled, "Who put a quarter in you?" I replied with a smile, "The Lord°aren't you thankful?"
In the midst of whatever you are going through, ask the Lord to put a song in your heart. Be blessed and know that God is there when you are having one of those days!
Gloria
P.S. We hope to have you join us this Wednesday for "Coffee & Connect LIVE" at 11 AM. Join the Facebook group by clicking HERE!
You can also watch it at a later time here on our website by clicking HERE!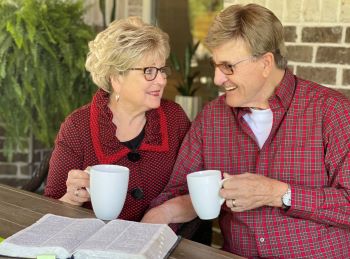 ---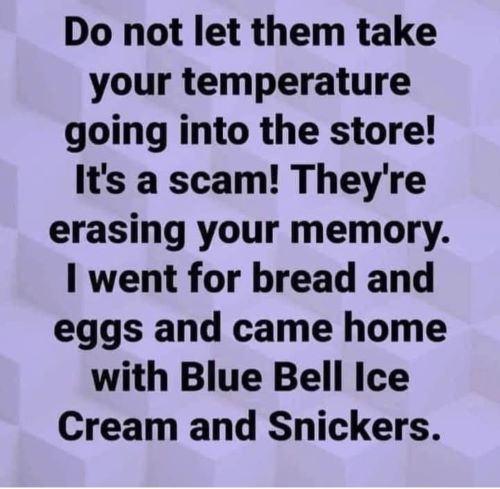 ---
RECIPE
It's time to use some of those fresh veggies! There is nothing like produce from the garden!
Zucchini Corn Bake
1 medium sized zucchini
1/2 cup onion
1/3 cup green pepper
2 Tbsp butter
1 lb or can of creamed corn
3 eggs
salt and pepper to taste
1/3 cup shredded cheddar cheese
Slice and cook zucchini in salted water; drain. Brown onion and green pepper in butter. Combine zucchini, onion, salt, pepper, corn and eegs. Sprinkle with cheese. Put in 1 1/2 quart casserole and bake at 350 degrees for 50 minutes.