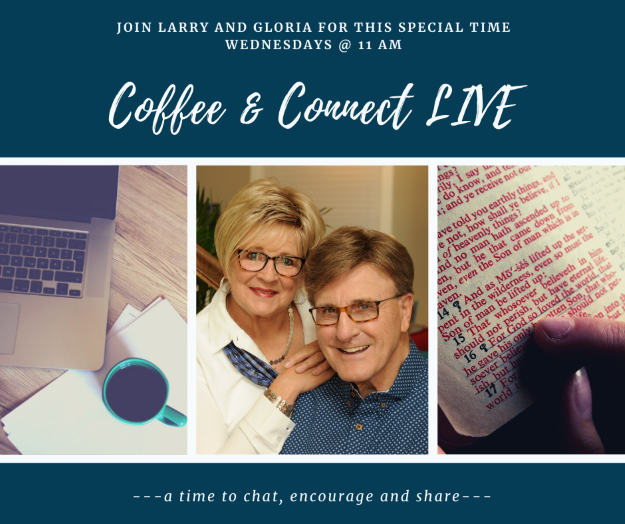 Who doesn't love some coffee (or favorite beverage) and some authentic conversation on topics close to our hearts?!  Larry and Gloria share in these times together stories, lessons, challenges and joys in a way that feels like they are sitting right across the table from you with coffee cups in hand.  These are being done LIVE on Facebook but we are able to make them available to you here as well.  The most recent video is near the top of this page.  Enjoy!
---
Coffee & Connect LIVE September 21, 2022
During this life, we are faced with many possible "gambles" ---farmers, health, investments---but in today's CCLIVE, Larry and Gloria Lundstrom challenge you that you do not have to gamble your "eternity". You don't have to wonder what "card' in your hand is the needed one, you can know that Christ is your Savior and that means you will spend eternity with Him! Now that is a gamble you can take!!! His Promise and His Word are Yes & Amen! Listen in and make a secure choice!
Coffee & Connect LIVE September 14, 2022
Have you ever felt "not enough", "not qualified", "not as good as everyone else"? Most people have felt that way. But---as Christians, we cannot allow those feelings to keep us from doing what God has called us to do! In today's time, Gloria shares her personal journey of some situations where she certainly didn't feel adequate for what she was stepping into, but how what God truly required of her was..."a Yes"...obedience to what He was asking of her! She reminds us to pursue a willing heart!
Coffee & Connect LIVE September 7, 2022
Today, Larry and Gloria clearly share that we have two options before us (just as they did)--life and death, kingdom of darkness and kingdom of light, peace and chaos, Jesus or satan. Every person who walks this earth will make a choice and the result of that choice will determine where eternity is spent. Larry and Gloria talk about the change that came into their lives as a result of choosing to follow Jesus with all of their hearts and give opportunity for you to know that same peace and joy!
Coffee & Connect LIVE August 31, 2022
This conversation between Gloria Lundstrom and Marne is like you are sitting down over coffee visiting heart to heart. Marne interviews Gloria asking her questions about her faith in the Lord, what has challenged her, shaken her and strengthened her. Also included are some light hearted! moments sharing those instances you would like to forget. You will be encouraged as you learn from Gloria's authentic answers that reveal a life lived and laid down for Jesus!
Coffee & Connect LIVE August 24, 2022
Time is passing with every second that ticks on the clock bringing every one of us closer to eternity. We are living amidst a culture that is contrary to the one established in the Word of God. What changes a person from being comfortable in culture to becoming instead counter-cultural? Larry and Gloria Lundstrom share how the altar changed everything as they gave their lives to Jesus Christ! They were different. They changed. They were now of a different culture! And you can be too!
Coffee & Connect LIVE August 17, 2022
After a "bumpy" week for the Lundstroms, Gloria shares some insight into how she faces the times when things aren't going as planned, when it feels like things are going the opposite direction and when trials seem to abound----the JOY of the LORD is MY STRENGTH! She shares how faith is tested in the midst of trials revealing who we truly are and how we can allow that revealing to grow us more into the likeness of Jesus Christ! Be encouraged--when we are tried--we will receive the crown of life!
Coffee & Connect LIVE August 10, 2022
The more time passes, we are seeing the trend of people walking away from Christianity. "Sometimes you nibble your way away from God"---small choices, small offenses, small lies begin to change one's trajectory. That's why it is essential to keep John 3:16 and the simple Gospel message at the forefront of our lives---God loved. God gave (sacrificed) His Son. We believe. We are saved for eternity! Let's not wait for a disaster to point us to Jesus, but rather desire because He loved us first!
Coffee & Connect LIVE August 3, 2022
There is a moment that unless Jesus comes for us....all of mankind will face death! What the sinner will know immediately following that event will be torcher as it is made clear---"When it is over, it isn't over." That truth along with 6 other facts will be understood. The good news is that if you are reading this, there is time to come to know Jesus Christ as Lord and Savior--in fact--an opportunity is available at the end of this video! Listen in and make Jesus Lord today!
Coffee & Connect LIVE July 27, 2022
In today's time together, Gloria shares about a time in her life where she truly wanted to be used more by the Lord but felt there was a hindrance. Through this time of searching with the Lord, it was realized that Gloria was in a prison of unforgiveness, and she shares how the Lord led her to freedom. Her authentic and vulnerable testimony is powerful and holds keys to where your own prison door of unforgiveness can be unlocked! You have a choice to make!
Coffee & Connect LIVE July 20, 2022
As July continues and we celebrate America and the gift of freedom we enjoy, Larry and Gloria invited dear friend and former ministry team member, Jeff Nordin, to provide a patriotic concert of favorite celebratory songs as well as precious hymns speaking of God's greatness and power! Along with sharing some nuggets of wisdom reminding us that in uncertain times we can put our hope and trust in the all powerful God we serve, this reunited team will encourage you with music and message!
Coffee & Connect LIVE July 13, 2022
We have all sinned which makes all sinners at some point. (Romans 3:23) There are some RIGHTS that sinners have and today Larry and Gloria share what those rights are: To know he has sinned, to know that he can know he is saved and to know that he has a choice to be saved. Ending with a simple opportunity to make that choice, this straight to the point and uncomplicated message paves the way for you to take advantage of the rights and CHOOSE to make Jesus Lord and Savior of your life!
Coffee & Connect LIVE July 6, 2022
What a special time together as Larry and Gloria Lundstrom hosted special guests, Bret and Daniella Leininger, who serve as Career Missionary Associates in Constanta, Romania. They share their story and how God led them into ministry, led them to each other and then led them on some new pathways as the war with Ukraine intensified bringing refugees in need of support to their area. Throughout it all, you will see how God is working all over the world and be encouraged He is on the move!