What a beautiful day it is today in Nashville! It's 92 degrees with NO HUMIDITY---that's a rare occurrence and how wonderful it is! Usually, by mid-March the air conditioners are running at full speed here, but it has been so pleasant, we have only used it about 4 hours so far and it is mid-June. However, it sounds like this weekend, the heat will turn up!
As in so many places, we have been experiencing much unrest, rioting, looting, and protests on top of dealing with the pandemic and increased numbers resulting from the lack of social distancing in all the gatherings taking place. All of that being said...we will be staying close to home! As we are home, please know that we are praying for you and the needs that you have shared with us. In fact, today at 1 PM, along with our office staff, we will be praying together over every one shared! If you get this in time, feel free to email us at llmin@venturecomm.net and we will pray! Speaking of prayer, please, please, please pray for our nation, our leaders, the people----we desperately need supernatural intervention and humbly coming before our Heavenly Father seeking His mercy is the pathway to this.
With Father's Day this weekend, I wanted to share this "Childhood Confession" I thought you would enjoy....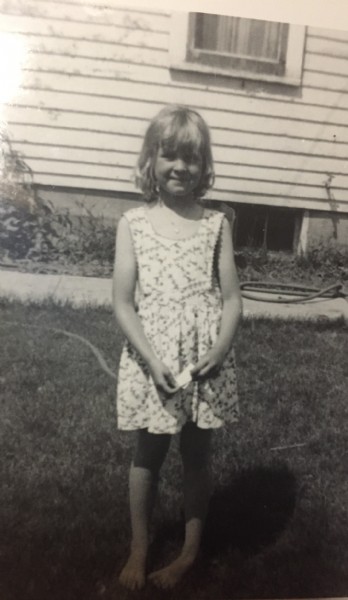 There's nothing like family and family secrets. Do you remember doing things as a sibling and threatening your brother or sister, "Don't you dare tell Dad or he'll kill us!" Of course, my Dad would never have killed us! He was a wonderful, fun father to have. Note that I did not say a perfect father, as there are none.
Over the years, I've made an interesting observation----when we are no longer children and have become adults, we carefully and cautiously begin to confess some of the pranks we pulled as kids at family get-togethers.
Every once in awhile, while my mom was still living I would get brave and share one of these confessions. My mom would be so surprised and exclaim, "You did that, Missy?" (Missy was her nickname for me.) "And here I thought you were such a good girl!" Then I would cautiously look at my dad for a response, and he would just chuckle and grin! I'm sure if I had told him 60 years ago some of the things I had pulled and gotten by with when he was young and strong, and I was little and weak, his reaction would have been a little different. HA!
I remember one experience when I was talking to Dad about spring and planting flowers. I was encouraging him to plant a garden. We reminisced about the fourth-of-a-block garden plot that we had had while I was growing up. I jokingly accused him of disliking us kids so much that he planted those six lots of garden just to keep us 11 children occupied, by pulling weeds, picking beans, pulling weeds, picking beans, beans and more beans! He just chuckled.
Then I carefully moved toward making a confession: "Dad, remember when you used to make me pick those yucky potato bugs off of all those potato plants? You never knew how much I hated picking those ugly bugs!" I continued, "Do you remember the day I came to you, needing spending money, and I made a deal with you? I asked if you'd agree to give me a penny for each potato bug I picked and put in an old coffee can, to be burned later. Well, I'm sure you thought I'd probably only gather 10 potato bugs and it would only cost you about 10 cents! But, with my Norwegian determination to make money, I picked over 250 of them! Remember when I walked up and proudly showed you all those bugs in that old coffee can? You just grunted and questioned me on the 'real count' of the bugs, but you willingly paid me $2.50. I was so excited; I thought, "Wow! That was easy money!"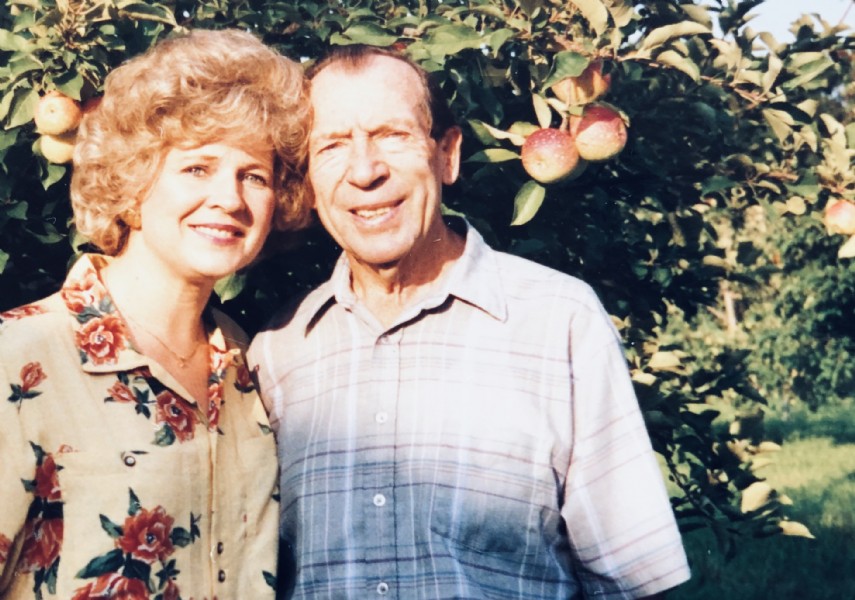 Then came the real confession. "Dad, you know when you told me to burn the bugs in the coffee can in the garden?" I hesitated, "Well, I didn't! I took the can and shook the bugs out all over the potato plants again!" I didn't dare look at the expression on his face. I continued, "Well Dad, remember that two days later, I anxiously offered to 'pick bugs' again for a penny each? And you graciously offered me the same money deal? Like a flash, I ran to the garden, 'knowing' there would be lots of bugs!" I wonder why!?!
After my confession about the "potato bugs" story, Dad didn't say a word. He just grinned his silly grin, and I knew I was forgiven. What a relief! Then he later chided, "I should have known!"
Isn't that something, after all those years of keeping a secret, it felt so good to let it out! Now, it has become a "family confession" story that brings laughter at family get-togethers.
I'm thankful for having such a wonderful father and friend! Through the years, both of us made mistakes, but we forgave each other and chose to dwell instead on the wonderful times and the precious relationship we had. I cherish every moment I had with Dad. He always gave me much advice and lots of laughs.
I'm also very thankful for my heavenly Father! I'm thankful I don't have to be afraid to confess my faults or sins. I know I can openly tell Him and ask Him for forgiveness. The Scripture in I John 1:9 tells us, "If we confess our sins, He is faithful and just to forgive us our sins, and to cleanse us from all unrighteousness!" What peace He gives us after confession! It's great!
Do you have anything to confess? Get it out! It's worth the peace you'll receive!
Gloria
ANNOUNCEMENT
In this time where we aren't able to be out on the road, we have missed greatly our connection with our friends and partners! So...we are stretching and trying something new. We are endeavoring to connect with you via Facebook during a special time we call "COFFEE & CONNECT LIVE". On Wednesday's at 11 AM, we go LIVE in our special Larry Lundstrom Ministries group and take some time to share with you what is on our hearts for the week, as well as, as some stories, scripture and prayer. If you would like to be a part of this and are on Facebook, you can click this link to ask to JOIN the group. https://www.facebook.com/groups/590560935145210/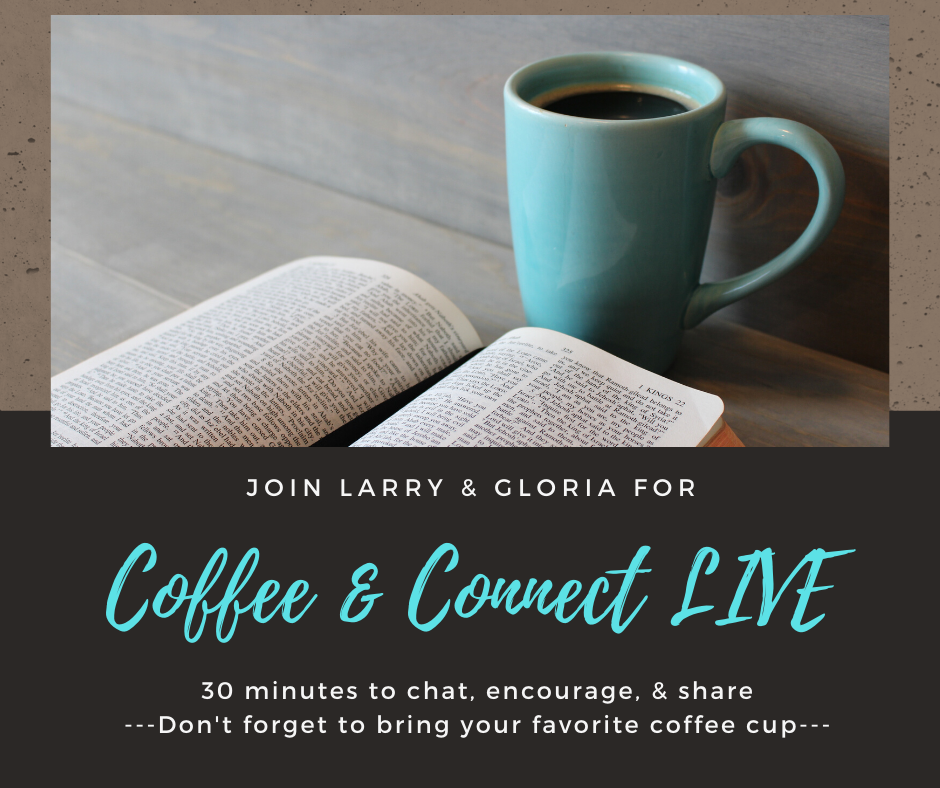 ---
Feeling overwhelmed...here's the answer!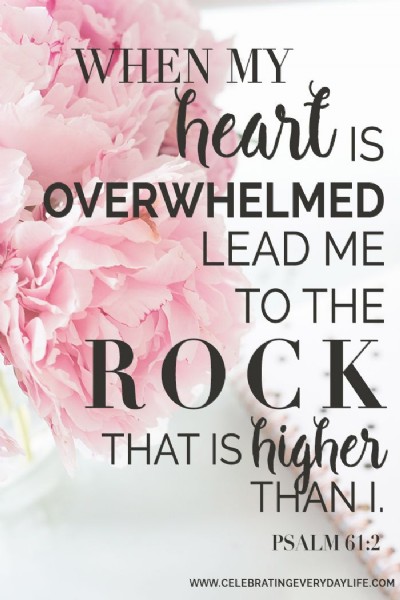 ---
ON THE LIGHTER SIDE....KEEP LAUGHING EVERY DAY!
I found this clipping in my mom's stuff. If my mom, mother of 11 children, took the time to cut this out, I'm sure it was an encouragement!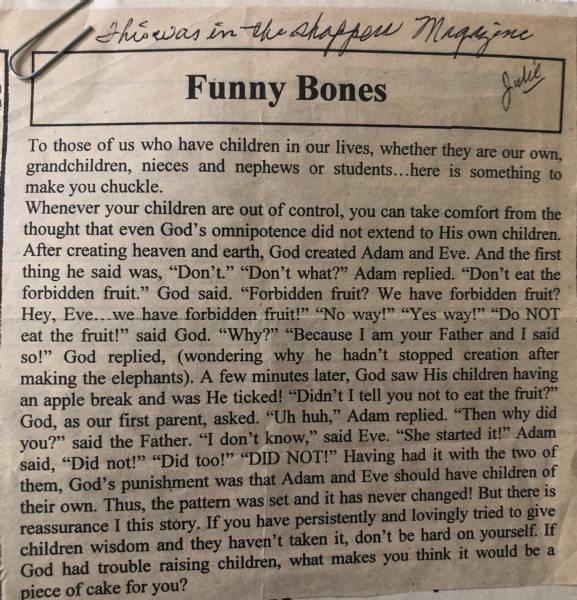 And another funny for the times we live in....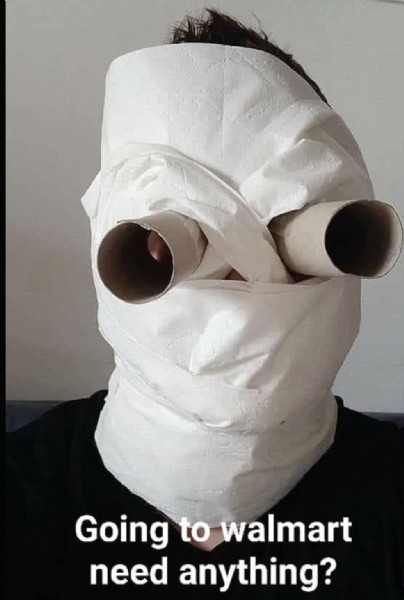 ---
RECIPE
Rhubarb Jam
Ingredients:
5 cups rhubarb
4 cups sugar
1 can crushed pineapple
1 small package raspberry or strawberry Jello
Directions:
Mix rhubarb and sugar and let stand overnight. In the morning, boil for 15 minutes. Add crushed pineapple Jello; let jam thicken. Pour into clean jars, keep in refrigerator. Makes 2 quarts.