I have to chuckle, here I am in Tennessee where usually the temperatures are nice and moderate in the 70's. However, last night, we got a strong "taste" of the cold front that moved through. The temperature dropped from 64 degrees yesterday to 7 degrees wind chill, and we even were surprised to wake up to a slight dusting of snow. They have cancelled most of the schools in the area due to the "snowstorm" and as you can see by the picture, this "snowstorm" is certainly not quite like the South Dakota snowstorms we are used to! I am sure my Midwesterners can find some amusement out of this like I do!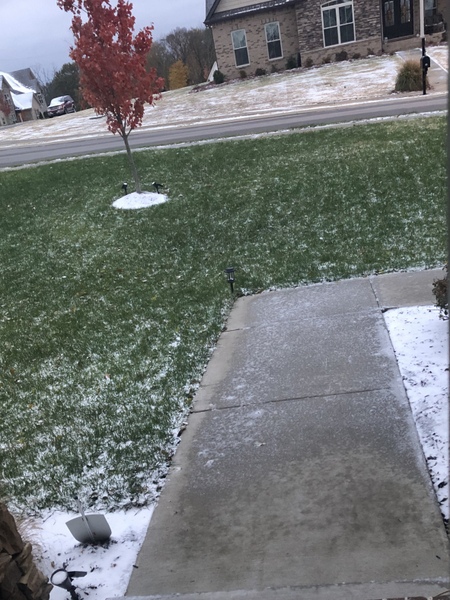 Regardless, it turned from fall to winter overnight. The freezing rain that came with the snow is certainly not fun so it is a good idea to stay put. Again, I am reminded how "tough" we Midwestern people are! I think of all the farmers, ranchers, construction workers that continue working in cold, blustery and often dangerous conditions because you just do what you have to do! I don't, however, miss bundling up the kiddos in their snowsuits in the old bus in order to keep them warm overnight in the freezing temperatures. I've grown a little soft! HA!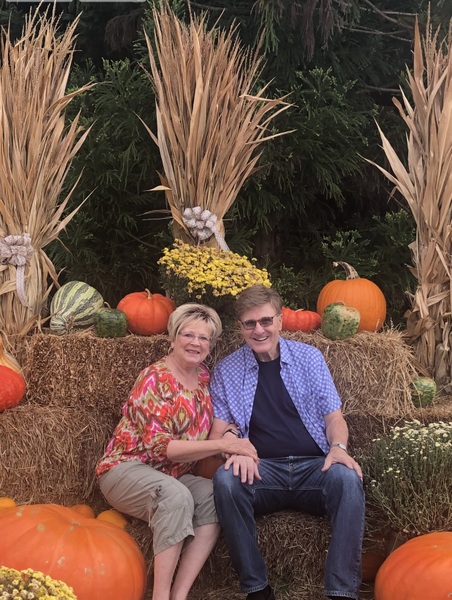 With Thanksgiving arriving, we are so thankful for God allowing us the privilege of being in ministry and seeing so many lives changed by being able to share the simple Gospel message this past year and all the years prior!
Larry continues to witness daily to people, one on one, which is certainly his niche! I love to see him in his element with the twinkle in his eye as he begins to share the Gospel! He keeps on going and going winning souls for Jesus!
May you have a blessed Thanksgiving! Truly remember to give thanks that we are free in America ot worship!
As we enter into this Thanksgiving season, I wanted to share this article with you...some favorite memories!
GIVE THANKS UNTO THE LORD....FOR HE IS GOOD!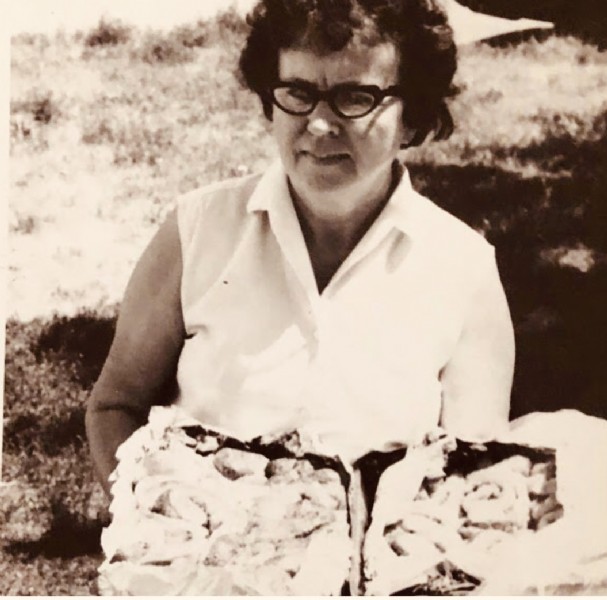 Thanksgiving always brings back memories of my childhood. With a family of 13—there was always a hustle and bustle for Mom and I to get ready for the big day; there was an immense amount of baking to be done. The previous day she would bake white bread, dark bread, wheat bread, dinner rolls, buns, filled bismarcks, donuts, several varieties of pies, cinnamon rolls and bars. The kitchen and dining room looked like a city bakery! The dining room table, the top of the chest freezer, and all the counters in the kitchen and stove were covered with baked goods just waiting to be devoured. You would think it would take a while, but with our large family and guests, it barely made it two days before it was all gone! Then mom, bless her heart, the day before Thanksgiving would take out a 25 pound or even bigger turkey and begin the preparation process for the oven. She placed it in the oven about midnight on low heat, getting up every two hours to baste it so it would be super moist.
Thanksgiving Day would arrive and while the turkey was nesting and roasting in the oven, my dad and brothers would go on their traditional hunting excursion, returning home about 2 PM. The aroma literally sucked them into the house as they returned. The smell of the turkey made their taste buds dance and tested their patience while they waited for mom and I to get the mashed potatoes, gravy, dressing and side dishes completed and on the table. It was always precious to hear the Thanksgiving prayer offered up for God's goodness to us as a large family, for coming into our lives, and as mom would always say "bring us the 'Joys of Salvation'. "
After the prayer there was an exuberant chant "pass the turkey!!!!" For the next couple hours we sat there eating till we thought we would bust. This would be accompanied by roars of laughter, teasing, and squealing by siblings as we would all tell stories on each other. It was warm. It was close. It was cherished. It was home. It was togetherness.

Thanksgiving is different now, as mom and dad are in heaven. The families have grown and have spread out here and there, but we still have the abundant memories of a family who gathered, loved God, depended on God, called on God, believed God for the answers to countless prayers and gave ecstatic thanks over the answers we received for needed miracles! Yes, Lord, we give you thanks this Thanksgiving and every day, for Your goodness to us!
Gloria
---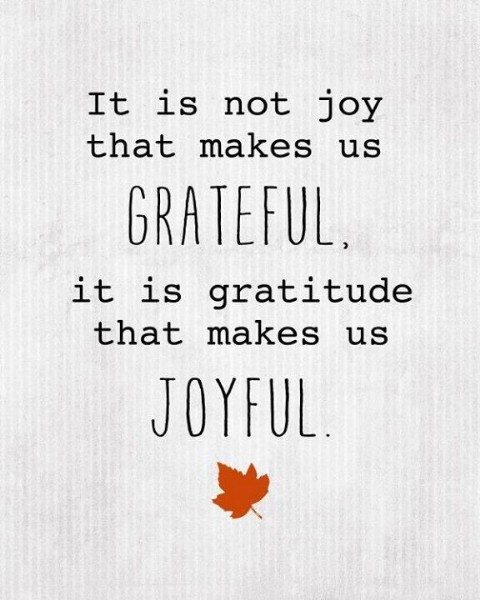 ---
CHUCKLE - A Little Thanksgiving Humor
May your stuffing be tasty,
May your turkey be plump,
May your potates and gravey
Have nary a lump.
May your yams be delicious
And your pies take the prize,
And may your Thanksgiving dinner
Stay off of your thighs!
---
RECIPE
Pumpkin Cheesecake Bars
2 cups unsifted flour
3/4 firmly packed brown sugar
1 1/2 cups chopped pecans or walnuts, divided
1/2 cup margarine or butter, melted
3 eggs, beaten divided
2 teaspoons vanilla, divided
1 8-oz package cream cheese, softened
1 14-oz can sweetened condensed milk
1 16-oz can pumpkin or 2 cups fresh pumpkin
2 tsp pumpkin pie spice*
Preheat oven to 350 degrees. In medium bowl, combine flour, sugar, 1/2 cup nuts and margarine until crumbly. Stir in 1 egg and 1 teaspoon vanilla; mix well. Press onto bottom of 15x10 inch jelly roll pan. Bake 15 minutes.
Meanwhile, in large mixing bowl, beat cheese until fluffy. Beat in sweetened condensed milk, remaining eggs, pumpkin, pumpkin pie spice and remaining vanilla until smooth. Pour over prepared crust; sprinkle remaining nuts on top. Bake 30-35 minutes or until set. Cool to room temperature; cut into bars. Store in refrigerator.
*If you don't have pumpkin pie spice, an approximate equivalent is 1 tsp ground cinnamon, 1/2 tsp ground ginger and 1/4 tsp cloves.