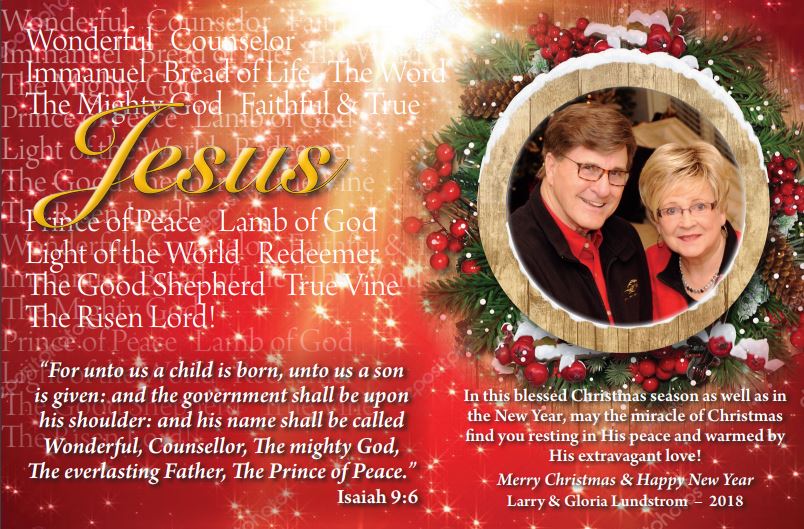 Merry Christmas from Tennessee!
I find it almost humorous to think back to when our children were little, our daughters, LaShawn and LaDawn would lay on the floor by our old record player and their very favorite song was "Tennessee Christmas." In fact, it was so special that when we would come home in JULY, with near 100 degree temps, they would still lay down on the floor by the player and put on "Tennessee Christmas." Who would've thought… all these years later that we are living here and truly experiencing a real Tennessee Christmas! We are so thrilled to be back here with the kids after so many years apart on the road. What a delight when they call with a "Hey mom, stopping over for a cup of coffee." or "Dad, let's watch a football game together." That truly is music to our ears.
Here are a few more Christmas family memories and photos from our newsletter!
The Gift of Family
In your wildest dreams, you couldn't imagine what Christmas was like growing up in a family with five older and five younger brothers, my dad, mom and my favorite dog Tippy. Our home was a cross between Grand Central Station and the San Diego Zoo! The anticipation, excitement and noise would make a space shuttle blasting off sound like a nursery full of sleeping babies in comparison.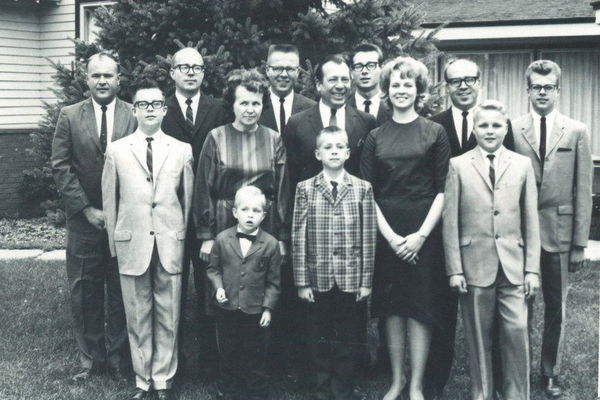 We didn't have much monetarily, but we always had a way of making Christmas an unforgettable event. Treats, goodies, presents and of course our own homemade Christmas program made it an "evening to remember!" The big old house reverberated with fun and laughter. My brothers' toys definitely got their test of durability challenged by Christmas morning. I think it was my five younger brothers that ultimately prompted "Tonka" to invent what was then known as "indestructible" toys and trucks. The one good thing about being the only girl in the family was that none of my brothers ever fought to play with my doll and dishes!
Years passed and before long, Christmas began to change. In 1965, Larry and I were newlyweds and with over 320 rallies a year as we toured with the Lundstroms, we were more than happy to just even get back home for a week to spend with our parents and families on the Lundstrom farm.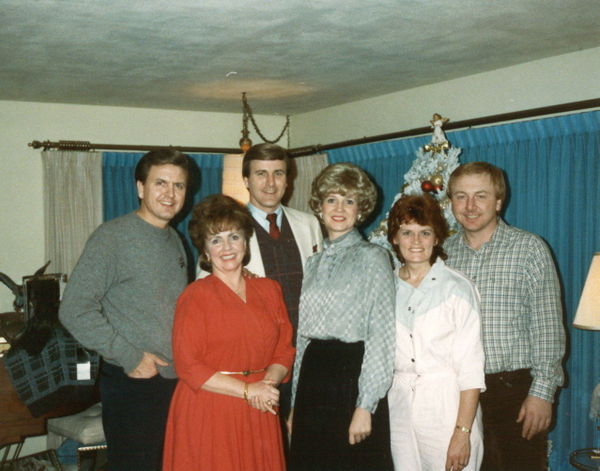 L to R: Lowell & Connie, Larry & Gloria, Leon & Ronda
Christmas really changed when our children were born. We had our own home, and we went all out for Christmas. Oh yes, it was a huge even as we will it with our own favorite traditions! One thing I know, I was never accused of being the "Grinch who stole Christmas." I love Christmas! I was always teased about decorating everything in the house but the bathroom commode.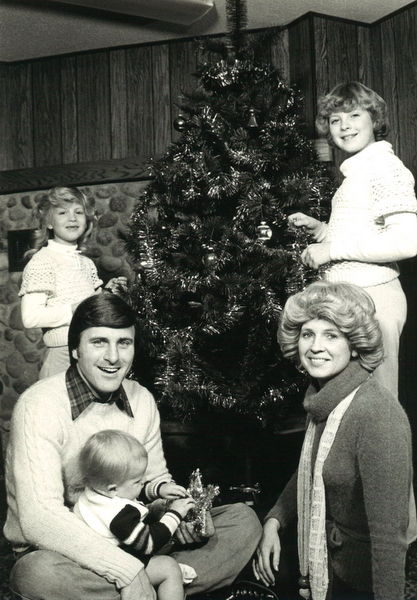 Larry & Gloria with young LaDawn, LaShawn and Donovan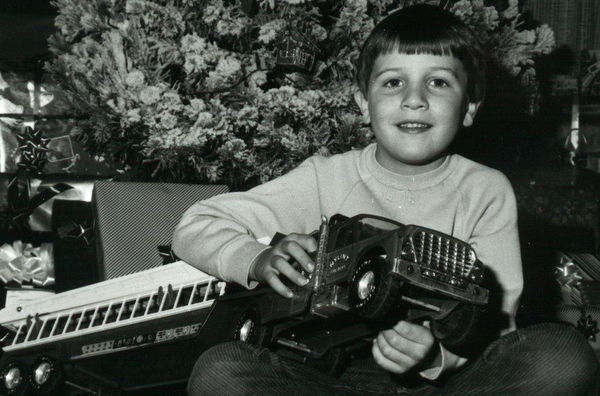 Donovan at Christmastime
Christmas changed again when the children grew up and left the nest. It was an all-out, action packed party when they arrived home for a couple of days. We'd fill it with games, sibling stories, loads of junk food and laughter.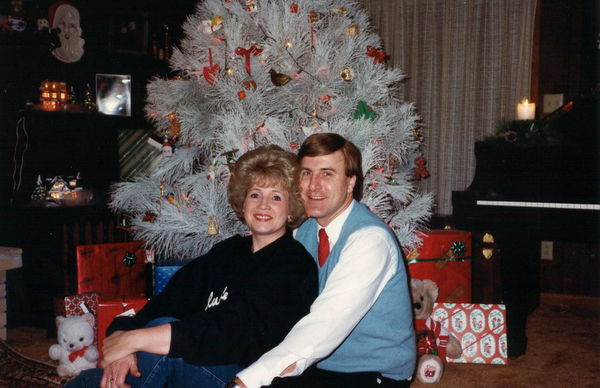 And once again, we experience our newest change as we now live in a suburb of Nashville, Tennessee. We are within 30-40 miles from our three children. How great it is to have them pop over to the house anytime. The changes I anticipate are we will decorate a lot less, we will concentrate on things that really matter, we will practice simplicity (and even us paper plates), and we will appreciate that we are all together! But, we know that…yes, there will still be lots of sibling stories, fun and laughter. Now they definitely entertain us! Most of all, this year, we will celebrate the birth of Jesus, the true meaning of John 14:6, "Jesus saith unto him, I am the way, the truth, and the life: no man cometh unto the Father, but by me." He IS our reason to celebrate.
May you have a blessed Christmas knowing that one night, when Jesus was born, our lives changed for all eternity.
Gloria
---
REFLECTION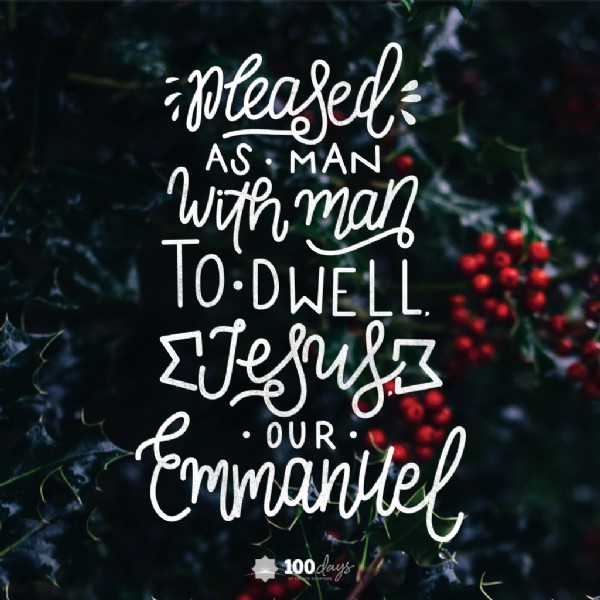 ---
RECIPE
Fern's Fluffy Angel Dessert
¼ cup lemon juice
1 pint cream, whipped
1 can Eagle brand sweetened condensed milk
1 can cherry pie filling
1 angel food cake
Add lemon juice and milk to whipped cream. Mix well. Tear angel food cake into pieces. Place ¼ of cake in bottom of trifle bowl. Then ¼ cream mixture. Repeat these layers. Spoon cherry pie filling (1/2 can) after the 2nd layer. Repeat layers. Top with the other half can of cherry pie filling.