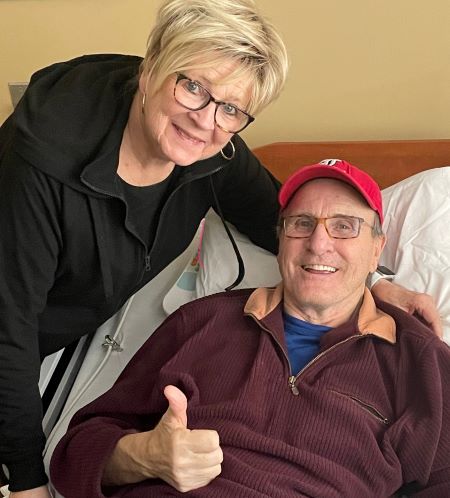 Hello again!  Yes---we are still here!  While we aren't currently doing our COFFEE & CONNECT LIVE, rest assured we are staying busy.  Larry is still actively going through rehab.  It has almost been  a month since his back surgery and as you know, we encountered some health speed bumps along the way that we are still working on.  The biggest issue being Larry was diagnosed orthostatic hypotension which causes his heart rate to go low causing dizzy spells/fainting.  They have changed his med and we are overjoyed that the last three days, it has been better.  It isn't perfect yet, but we are seeing improvement.  The other issue was have faced is that Larry has had extreme weakness.  We are thankful he is in a place where they are working on building his strength back up diligently.  We would appreciate your continued prayers that we would continue to see forward progress in these areas. 
The good news is Larry is as active as ever witnessing to as many as he can right where he is at.  Many are the staff at the rehab place, and he has been excited to pray with a few.  Of course, he always starts winning them over as a friend with jokes and laughter  and then leads into the more serious conversations.  I love that Larry is the same no matter where he is at---his heart is always to reach people for Christ!
Thank you in advance for your continued prayers as Larry is quite anxious to get up and going and out and home.  He is also ready for some home cooked food (It's not necessarily a gourmet meal service).  Needless to say, I bring him coffee and treats and the family brings him things he likes---burgers, fries, milkshakes and his son-in-law even made him Irish stew.
Speaking of treats, how blessed we are to have such wonderful neighbors.  These two little sweethearts, Rosemary and Caroline, brought over these cookies they made with their mom.  They wanted to give them to Larry.  Wow…did that ever put a smile on his face!  And yes…I even gave him some ice cream to go with them!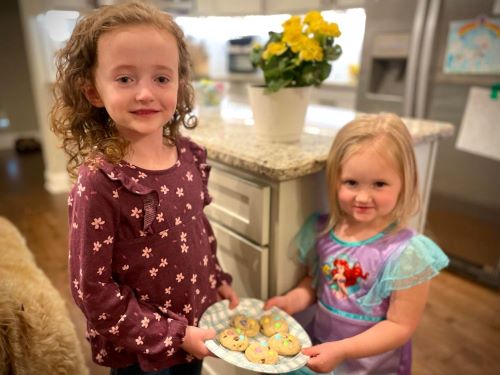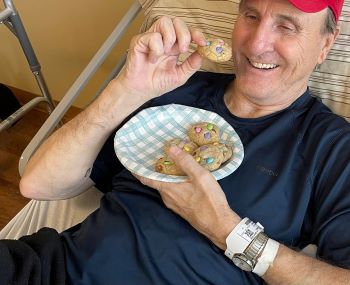 Now, just to make you smile….here is a little chuckle I recently had:
I was in a rush to get dressed and made presentable as I knew I needed to go to the post office, grocery store and the bank before heading through crazy traffic to be with Larry at the rehabilitation center.   I parked at the bank in the handicap spot, and realized I left the handicap card in LaDawn's car, reparked the car, rushed into the bank to cash a check and was greeted by three tellers asking  "Where's Larry?"  I proceeded to explain that he is in a rehabilitation center after undergoing back surgery. They chirped,
 "We have missed him lately.  He always has a joke and brings laughter and joy in here!"  To which the gal working at the drive-thru window turns around and says, "Tell him we miss him and his jokes."  All the while, my teller was busy checking my driver's license, groaned, continued checking , hesitated and stated "Something is not right.   It keeps coming up you were born in 1900!"
She continued searching as I told her, "Well, you made my day !!!!  I tried to make myself look halfway alive and good this morning."  As I am waiting, I am thinking to myself, "I certainly look my age today..( not good) but if it says I was born in 1900….. I think I look pretty good for my age of 122 right!"
Then, the teller laughed, "Oh here it is, you're only 77, just about 78!"
I guess that was supposed to make me feel better!    Guess it did!
---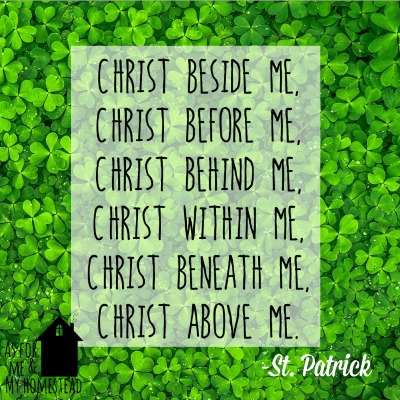 ---
RECIPE
Try this for a little green fun dessert for St. Patrick's Day!
Pistachio Pudding Dessert
5 dozen Ritz crackers, crushed
1 stick margarine/butter
1/2 gal vanilla ice cream
2 boxes pistachio instant pudding
green food coloring
Frozen whipped topping, carton
Butterfinger candy bars
Mix crushed crackers and margarine/butter for crust.  Press into a 9x13 pan.  Bake 10-15 minutes at 325 degrees.  Soften ice cream enough to mix in pudding with food coloring as needed.  Pour over cooled crust.  Freeze until firm.  Cover with layer of whipped topping and then top with crushed Butterfinger bars.