MERRY CHRISTMAS & HAPPY NEW YEAR!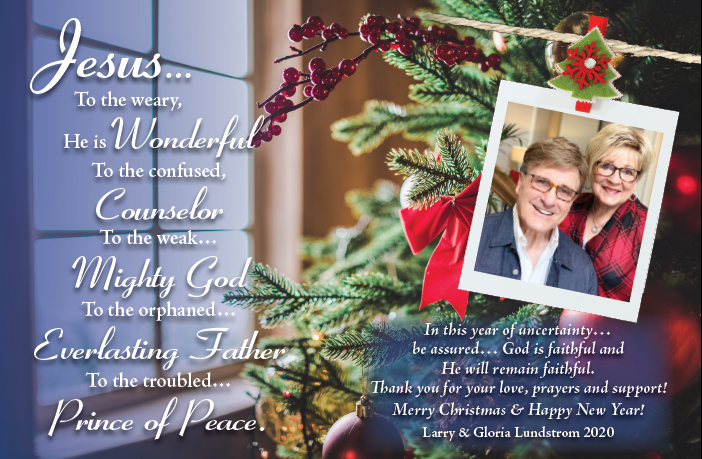 CHRISTMAS WILL NOT BE AS USUAL.....
Here we are. It's December and the calendar days are quickly counting down approaching Christmas. There is always anticipation at Christmas. We anticipate and have expectations of parties, Christmas caroling, church activities, families gathering together, and scrumptious eating which all spell fun in my book! For me, this is an "ideal" Christmas.

However, we are facing a different reality this year; Christmas won't be as usual. COVID-19 has upended and changed everything. Peoples' schedules, finances, plans, dreams, vacations and get-togethers are different in one way or another. For many there will be empty chairs and trickling tears thinking of those who have been stolen out of their lives due to untimely deaths. The absence will be painful. As will the feeling of loss with less family gatherings, church concerts/programs, and special
holiday events. Now to be frank, we did not do anything to cause this, and there's really little we can do to change it, so that leaves us with the question, "What is Christmas going to be like this year? How can it be better than expected?"
I want to challenge you that it can be better than you think, IF we can choose to create a better mindset and be intentional about focusing on the true REASON for the SEASON. There once was a family that celebrated Christmas every year with a birthday party for Jesus. An extra chair of honor was brought to the table and it became the family's visual reminder of Jesus' presence with them. There was a cake brought to life with flickering candles and the family burst out in the singing of "Happy Birthday" to express their joy and celebration of Jesus' presence. One year a Christmas afternoon visitor asked the five-year-old, Katie, "Did you get everything you wanted for Christmas?" After a moment's hesitation she answered, "No, but then, it's
not my birthday."
This Christmas, even with all the COVID–chaos, will we forget, the real REASON for Christmas? It could be very well be that there will be less extravagant gift-giving (which is financially better causing less stress). Sadly, there may be fewer family gathering, (but one can use the gift of technology: cell phones, FaceTime, Zoom and numerous other ways to connect). There may be a decrease in the amount of Christmas goodies and favorite dishes (which just might be a lot healthier for all of us). There may be an abundance of family games (which might create more interaction with the family and the opportunity to know more about each other). As we cherish the times together, in person or online. Maybe have a question and answer time where we take the time to ask grandma and grandpa or mom and dad questions about something you'd like to know and didn't know as we are never guaranteed more moments; (you would gain a wealth of information and history). This new creativity, along with the altering or adjusting of old traditions, you have the opportunity of instilling stress free, fat free, finance free traditions that can be whole new customs that will bring joy, laughter, richness and fulfillment to the family. Then frost the Christmas gathering with the Luke account of the Christmas story!
This may be the most unusual Christmas we've ever had, but prayerfully it is a memorable and meaningful one. It sounds good to me!
HAVE A BLESSED & MERRY CHRISTMAS!
Gloria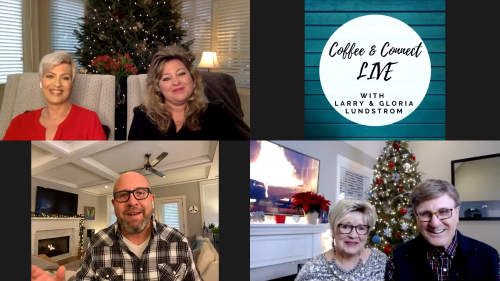 P.S. If you want to hear some of our favorite Christmas memories as a family---whether that is coming in off the road in the knick of time to celebrate or creating a Christmas TV special---you can tune into our last two COFFEE & CONNECT LIVE's where as a family, we share some of those memories. You can view them by clicking HERE and then scrolling down to the videos. Just click on the video to watch!
---
DID YOU KNOW???
DID YOU KNOW that the chopping down of the Christmas tree represents the death of Christ and putting it back up represents the ressurection of Christ?

DID YOU KNOW that the wreaths we hang are never ending circles that represent eternity?

DID YOU KNOW candy canes were made to look like shepherd hooks and the colors-red to represent Jesus' blood and white to represent purity

DID YOU KNOW the gifts that we share with each other represent the three gifts the wise men brought for Baby Jesus
So....when you are running around trying to find the "perfect gift", stop yourself, take a deep breath and remember---
WE HAVE BEEN GIVEN THE PERFECT GIFT----JESUS CHRIST was given to us to remove all our sins!
HAVE A MERRY CHRISTMAS!
---
SANDBAKKELS
*A favorite Norwegian treat my mom made! If you like butter, you will like these!
1 cup sugar
1 cup butter
3 cups flour (about)
1 egg, well beaten
1 tsp vanilla or almond flavoring
Cream sugar and butter. Add egg and flavoring. Work in about 3 cups flour. Press into tins and bake at 375 degrees for about 10 minutes. Watch carefully.