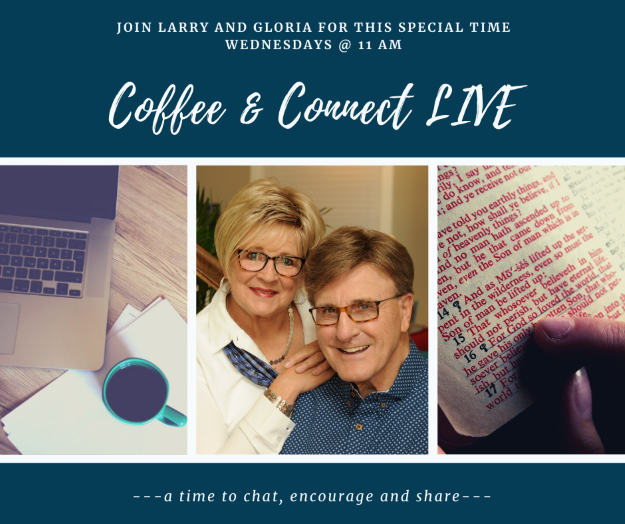 Who doesn't love some coffee (or favorite beverage) and some authentic conversation on topics close to our hearts?!  Larry and Gloria share in these times together stories, lessons, challenges and joys in a way that feels like they are sitting right across the table from you with coffee cups in hand.  These are being done LIVE on Facebook but we are able to make them available to you here as well.  The most recent video is near the top of this page.  Enjoy!
---
Coffee & Connect LIVE June 29, 2022
As Larry just celebrated his birthday this week, this time together is a special time of remembering moments through the years and then Larry goes on to share if he had just 10 minutes left of life on this earth, what would he say. In Larry's easygoing but poignant way, he continues to point to the fact that we live eternally---we are just changing destinations so what do you need to pack in your bag---belief, birth, blood and burden. It is a great message to get one thinking!
Coffee & Connect LIVE June 22, 2022
In today's CCLIVE, Larry and Gloria take some time to remember how impactful the spiritual investments like Vacation Bible School were in their lives as children. As it is summertime and many of these activities are taking place, they issue a challenge to be intentional to sow eternally into your children, grandchildren, great grandchildren. We are reminded that we live eternally but the destination in our choice. We inherited lostness but we don't have to stay that way because of Jesus Christ!
Coffee & Connect LIVE June 15, 2022
As Father's Day approaches, Larry and Gloria recognize the ways that their fathers impacted them and then look ahead to share how there is a battle for the family. Larry shares how the bible instructs parents to teach the kids daily, living out your Christian life before them, but even with that, children have a free will and are free to make other choices. When that happens, Larry and Gloria share some things parents can do in the midst of the journey!
Coffee & Connect LIVE June 8, 2022
Larry and Gloria Lundstrom host special guests, Mark and Julie Morse of Kingdom Purpose International. From the beginning to the very end, you hang on every word as you learn about the incredible journey Mark and Julie have been on and how every experience they went through prepared them on their mission of raising the next generation to share the Gospel with their neighbor and the nations! Be prepared to be inspired, challenged and encouraged by this dynamic couple giving their all for Christ!
Coffee & Connect LIVE May 25, 2022
"We are sojourners in a temporary place passing through to an eternal world." Larry and Gloria Lundstrom challenge our thinking about living for the right now and instead remind us that we are made for eternity and the choices we make in the here and now will affect our entire eternity. As we also remember those who have sacrificed their lives for our freedom, we remember the ultimate sacrifice of Jesus Christ so we could say "YES" to the free gift of salvation leading to eternity with the Lord!
Coffee & Connect LIVE May 18, 2022
With Gloria just celebrating her 78th birthday, it was the perfect opportunity to share how she is "living the dash" ---the dash between her birth date and her death date. With her candidness and transparency, she shares about her identity and struggling with who she is....Mary or Martha...in the bible. Her prayer is that with the moments that she still has within the dash, that she would choose to do that which is eternal which is a great challenge for us all no matter where we are in the dash!
Coffee & Connect LIVE May 11, 2022
In this time together, we receive a sobering message about the reality that there will be a day when the believers and unbelievers will be separated, each going to the destination they have chosen-heaven or hell. Larry and Gloria share of the different types of followers of Jesus- the Lunch Bunch (wanting something), the Grunch Bunch (religious) and the Hunch Bunch (disappointed in Jesus). But you are given an opportunity to be a part of the "YES" Bunch-saying yes to Jesus and following Him!
Coffee & Connect LIVE May 4, 2022
What stands out in this time together are the smiles and the love in the eyes of Larry and Gloria Lundstrom as they remember and share about their mothers---their characteristics, their sacrifices, their legacies. It is truly a special time as they share memories and moments that helped shape who they are today. Gloria then has some thoughts on Mary, the mother of Jesus, and what she walked through with raising the Son of God. She leaves us with a beautiful challenge to leave a lasting legacy!
Coffee & Connect LIVE April 27, 2022
Let's face it....life on this earth can be tough at times. The last few years have proved to us that we are not in control and each of us has some questions we must face. In today's time together, Larry and Gloria share about the LINES that we will experience: TIMEline, BOTTOM line, BLOODline, DEADline. Each of these lines has a direct affect on our eternal destination. They offer encouragement and reveal how the Lord has provided a way to walk the line into eternity with Him!
Coffee & Connect LIVE April 20, 2022
What a joy it is to hear further PROOF OF THE RESURRECTION as Larry and Gloria share the stories of how each of their families came to know Jesus Christ! These are powerful testimonies of how they each experienced a personal resurrection in their lives....going from death to life! Lives forever transformed by the Gospel is further proof of the resurrection power of Jesus Christ not only as He was raised from the dead but also as that same power makes way for each of us to be given new life!
Coffee & Connect LIVE April 13, 2022
In this Holy Week as we approach Good Friday (God's rescue plan) and Resurrection Sunday (the proof), Larry and Gloria reflect on how main characters in this epic unfolding saw the proof and tried to cover it up because the PROOF WOULD DEMAND A VERDICT! Many of us can see the proof and evidence of God in our lives or the in the lives of others, but we don't want to face it because it would require us to make a decision. Listen today and may you face the proof and make an eternal decision!
Coffee & Connect LIVE April 6, 2022
It was an absolute joy and delight to have Larry return to the COFFEE & CONNECT LIVE after undergoing invasive surgery and experiencing a few setbacks. He certainly didn't let that hold him back for this time together as he shared some things that he has learned through this time of recovery. He was ready and filled with wisdom and knowledge challenging us with the story of Blind Bartimaeus--He had to know the One he was calling to, recognize he had a need and finally, he had to call!