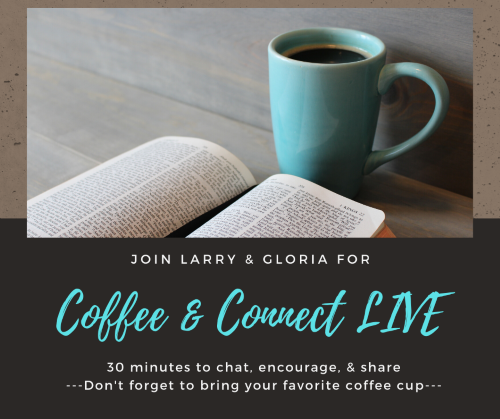 Who doesn't love some coffee (or favorite beverage) and some authentic conversation on topics close to our hearts?! Larry and Gloria share in these 30 minute segments stories, lessons, challenges and joys in a way that feels like they are sitting right across the table from you with coffee cups in hand. These are being done LIVE on Facebook but we are able to make them available to you here as well, just without the more interactive capability. The most recent video is near the top of this page. Enjoy!
---
Coffee & Connect LIVE July 29, 2020
Join Larry and Gloria for this special time of connection. Gloria shares a lesson learned while "on the road" about trying to please everyone when God requires we please Him first. Larry remembers when he realized God was there and how this is not our real home so the Gospel needs to keep going forth.
Coffee & Connect LIVE July 22, 2020
This time with Larry and Gloria over coffee was even sweeter as they had their niece, Londa Lundstrom Ramsey, join them for a fun time together reminiscing old times and sharing how their lives have been shaped by giving their all to see souls come to Christ! The stories and challenges shared will make you laugh and cry, but most importantly, give thanks to the Lord for years of faithfulness!
Coffee & Connect LIVE July 15, 2020
Join Larry and Gloria from some fun stories yet encouraging words! Gloria shares about "one of those days" and sometimes feeling like "Chippy". Larry talks about eternity and the finish line...we will all arrive someday. Have you made the choice where you will spend your time after your earthly finish line?
Coffee & Connect LIVE July 8, 2020
Join Larry and Gloria for a special time of sharing! Make sure to have your favorite coffee mug and snuggle in for some challenge, prayer and smiles. Larry shares some thoughts on absolutes and the absolute of Jesus Christ providing the way to eternal life. Gloria shares on the importance of prayer.
Coffee & Connect LIVE July 1, 2020
Join Larry & Gloria for some chat time over a cup of coffee. With the upcoming July 4th weekend, there are some fun stories about fireworks but also some sharing about where true freedom comes from!