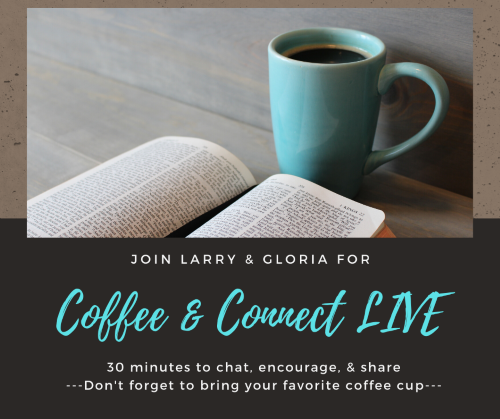 Who doesn't love some coffee (or favorite beverage) and some authentic conversation on topics close to our hearts?! Larry and Gloria share in these 30 minute segments stories, lessons, challenges and joys in a way that feels like they are sitting right across the table from you with coffee cups in hand. These are being done LIVE on Facebook but we are able to make them available to you here as well, just without the more interactive capability. The most recent video is near the top of this page. Enjoy!
---
Coffee & Connect LIVE December 2, 2020
What a delightful time Larry and Gloria had with special guest, Jeff Nordin, worship pastor at Christ Chapel in Woodbridge, VA, and former road team member of Larry Lundstrom Ministries. Jeff shares some favorite Christmas memories and stories, as well as, shares his musical talent with us as he plays some favorite Christmas carols including O Holy Night and O Little Town of Bethlehem. We know you will be blessed!
Coffee & Connect LIVE November 25, 2020
Larry and Gloria host special guests, Greg and Janna Long, in today's time together. They shared memories and photos throughout the journey remembering what it is like to be a "road family" and the steps that brought them to where they are now. Greg and Janna also shared some beautiful melodies that brought great encouragement in this time!
Coffee & Connect LIVE November 18, 2020
As we enter into the season of Thanksgiving, Larry and Gloria Lundstrom share about the faithfulness of God in their lives. They share specific moments where the Lord provided in very real and miraculous ways. Larry also shares about the goodness of God to inform us of our "default" setting and how to switch from death to life!
Coffee & Connect LIVE November 11, 2020
Larry and Gloria Lundstrom host special guests, John and Angie Sommer during the Coffee & Connect LIVE. John used to travel with Larry and Gloria and the share a few photos and memories. The highlight, however, is the testimony of how during this season of challenge with COVID, their family has grown and seen God use it as a special time of building faith, encouraging others and realizing God is not bound by the "box" we may want to place Him in! Be encouraged and filled with faith!
Coffee & Connect LIVE November 4, 2020
As of this time, the presidential election is still not finalized, but regardless, Larry and Gloria share some truths about what we, as Christians, can do to be salt and light in a world desperate to know Jesus. In a time of weariness and hardship, they remind you that there is room at the cross for you, just accept the free gift Jesus offers.
Coffee & Connect LIVE October 28, 2020
In this segment of Coffee & Connect LIVE, Larry and Gloria become the interviewees. They are asked some questions people have asked like....what was it like with two families living on the bus, what is the deal with all the "L" names, have you made mistakes as parents and what advice would you give others....plus more. Also, there is a beautiful montage of pictures set to The Wedding Song, a special song written by Lowell Lundstrom for their wedding.
Coffee & Connect LIVE October 21, 2020
Special guests, Kirk and Marne Snaza, pastors at Christian Outreach Center in Sisseton, SD, join Larry and Gloria for a time of laughter, gratefulness and testimony. Kirk and Marne share how the Lord brought their lives together and the role that Larry and Gloria played and continue to play in their family. Honoring the faithfulness of God and of Larry and Gloria, Kirk shares how that has been a key of encouragement in their lives throughout the years of marriage and ministry.
Coffee & Connect LIVE October 14, 2020
Larry and Gloria pick up where they left off last week as they continue to tell of their lives together for the past 55 years! You will laugh as they share some of their very real life stories, you will cringe as you hear about snow in the bus and you will praise God as they share how God has been faithful. Also, they share their most often requested song, The Travelling Song! Enjoy!
Coffee & Connect LIVE October 7, 2020
As Larry and Gloria celebrate their 55th anniversary this month, they thought a little history of their relationship and how God orchestrated their lives to join together for a lifetime of ministry and marriage would be fun to share! Learn how the Lord called each of them and how their callings were instrumental in forming this Gospel team!
Coffee & Connect LIVE September 30, 2020
This week Larry shares a quick video on What Happens and Why We Must Be Born Again. In a simple but yet profound manner, one learns the basics and is also given tools in which one can share with another the Gospel. You do not have to be intimidated any longer...share the Good News...we were dead, but we can be Reborn!
Coffee & Connect LIVE September 23 , 2020
In today's LIVE, Larry and Gloria Lundstrom host special guests Josh & Steph Humpa who both minister on staff at Oak Creek Assembly of God in Oak Creek, WI. During this insightful time, they share about "kids in crisis"--how has this unusual time affected our kids, how can we help them through it and what they have and are currently doing to bring life , hope and the Gospel to each one!
Coffee & Connect LIVE September 16 , 2020
In this week's CCLIVE, Gloria shares about being in a time of holding challenging us not to waste our time there, but rather to give God our undivided attention and see what He wants to do in our lives. Larry shares some excellent bits of truth about what "A Sinner Finds Out 60 Seconds After Death". It is powerful to think about the reality of the decision we make today affects our eternity in a very real way. He issues the invitation to choose eternal LIFE!