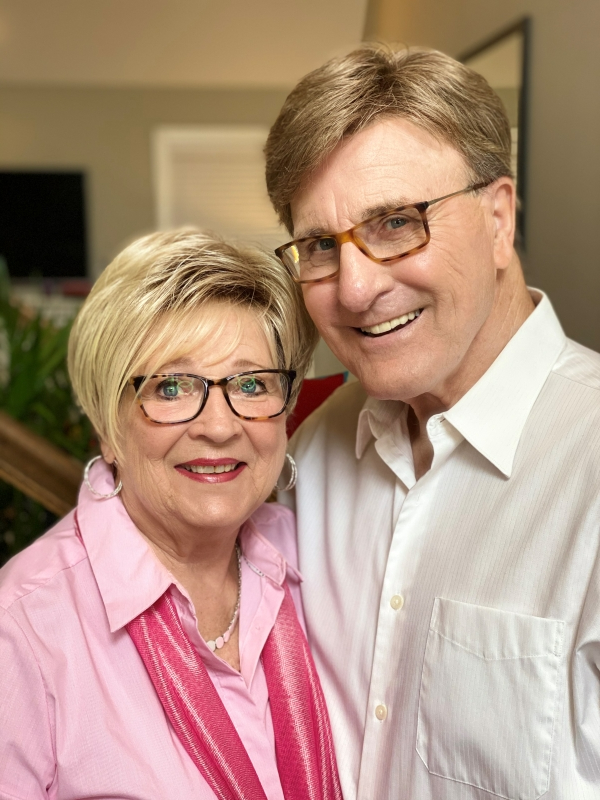 Greetings from Nashville, Tennessee!  Larry and I just love this time of year as we celebrate the resurrection of Jesus Christ which changed the entire world and certainly changed our destiny for eternity.  We also take this time to further celebrate two families that are very dear to our hearts that came to the Lord during the Easter season!  In 1957, the Lundstroms came to know Jesus as Lord and Savior and in 1952 the Brooks family came to know the Lord. 
Truly, every day is Easter to us knowing the abundant life we have and secured eternity we have because of asking Jesus to be Savior and Lord of our lives!
So as we walk through this Holy Week, may we remember and celebrate fully the sacrifice and death of Jesus Christ for you and me and all humanity---and may we overflow with thanksgiving and rejoicing for His resurrection from the dead that changed everything! 
We encourage you to tune into the COFFEE & CONNECT LIVE this week at 11 AM in our Facebook group (https://www.facebook.com/groups/590560935145210)  or watch it later in the day on our website at http://www.larrylundstromministries.org/CC-LIVE.  We will be sharing on the proof of the resurrection and how our families were changed forever through the resurrection!
Below is my newsletter article on "Is Good Friday Really Good?"  What was so horrific and devastating was for our good!  How great is our God!
I will never forget the moment! Our son, Donovan, was about five years old. We had just finished devotions, a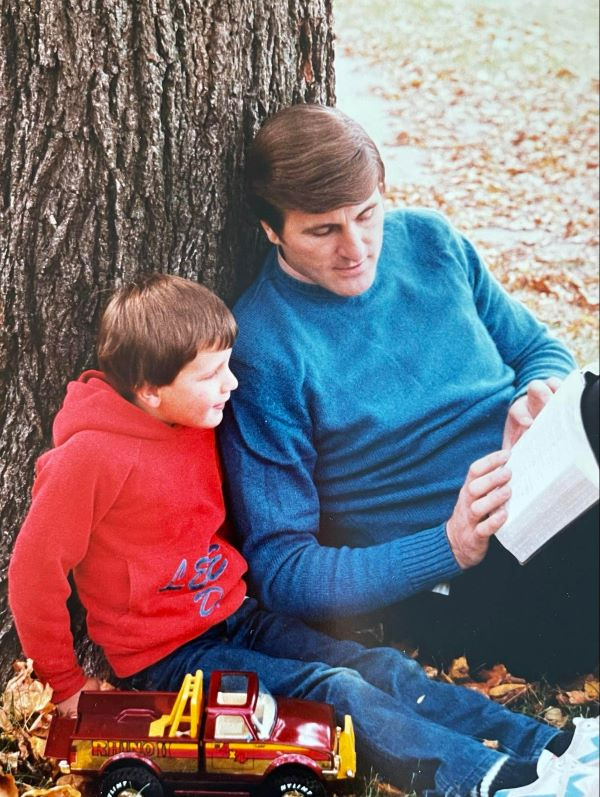 nd the story for that evening was about Good Friday. With hands tucked under his chin and big blue eyes ready to spill over with tears, he looked at us and asked in confusion, "Dad, was it really a good Friday?" Knowing we always vowed not to intentionally lie to him, Larry and I looked at each other searching each other's face for an honest answer to that innocent question. God gave us wisdom to answer him.
We explained that Good Friday wasn't good for Jesus… but indeed, it was very good for us. If He hadn't died for our sins, we wouldn't be here and we would have no way to go to heaven. God somehow in His mercy enlightened understanding to his young tender heart. I still find it difficult to explain or figure out why bad things happen to good, godly people. Every day we receive news from people in our lives who have experienced tragedies such as untimely deaths, cancer, heart attacks, strokes, Covid, Alzheimers, fractured families, prodigal children, financial hardships…the list could go on and on. Our hearts hurt for each one and we cry out and question, "My God… why have You forsaken them?"
Then I revisit those last six hours of Jesus' life and death. "Those were no normal six hours," Max Lucado writes, "for during those six hours on that Friday, God embedded in the earth three anchor points sturdy enough to withstand any storm or hurricane."
Anchor #1 My life is not futile or in vain.
The Rock, Jesus, secures the hull of your heart. Its sole function is to give you something you can grip when facing futility. It is the "grasp" on the conviction that there is truth. It reminds me that God will never allow me to go through any more than I can bear so I can make it through the storms of life. God is in control and there is a purpose for which I have to seek God for. In other words, God doesn't want me to waste my pain or sorrow. It can be turned from tragic to triumph, and from triumph to a testimony!
Anchor #2 My failures are not final.
God does not like or approve of what we've done wrong, but He forgives us when we ask Him to in sincerity. He is a God of second chances. We don't have to be a prisoner to failures. "Whom the Son sets free is free indeed." John 8:36
Anchor #3 Death is not final.
If you know Christ, the grave is not the end. It is just a doorway! I can't imagine believing in a god where the tomb is the end. Jesus knew all along He was born to die and He was obedient unto death. The tomb was just a "stage" for a miracle. When they rolled that stone in front of the tomb, they could just as well have put a piece of tape on it. Jesus only went into the tomb to prove He could come out! When the moment of the miracle happened, Jesus arose triumphant, and the immense stone was rolled away. Death was swallowed in victory!
Friend, if it were not for the tragic "Good" Friday events, we would not have the joy and hope of Easter. Praise the Lord! Those three anchors are what I hold on to when it feels like all hope is gone and when the trials and storms of life are raging and feel like they are going to overtake me. The words from Bill Gaither's song, "Because He Lives" ring every true…Because He lives, I can face tomorrow! Let me encourage you…you can face tomorrow…if only you put your hand in the nail scarred hand of Jesus
---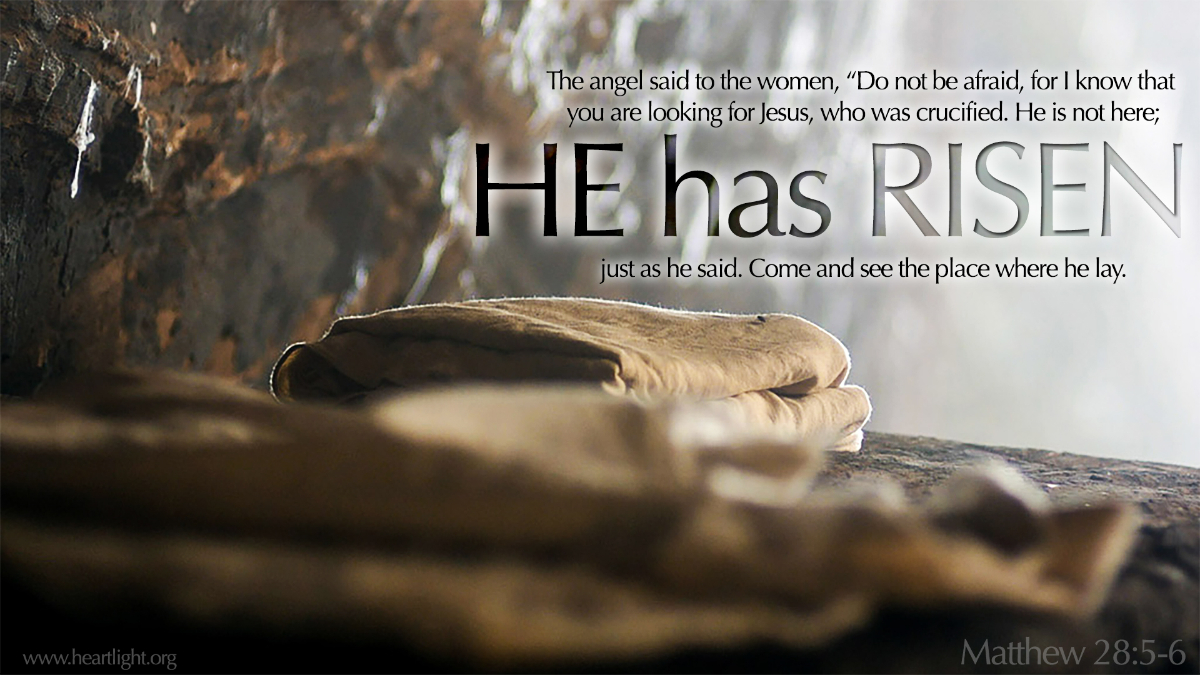 ---
Easter Bread
One 1/4-ounce packet active dry yeast (2 1/4 teaspoons)
6 cups all-purpose flour, plus more for the work surface and kneading
2/3 cup sugar
1 1/3 cups milk
6 tablespoons unsalted butter, plus more for greasing the bowl
1 teaspoon fine salt
2 large eggs, lightly beaten, plus 1 lightly beaten for egg wash
1/3 cup sliced skin-on almonds
1 tablespoon mini white nonpareils
Pour 1/3 cup warm water (about 110 degrees F) into the bowl of a stand mixer. Gently whisk in the yeast, 1 tablespoon of the flour and 1 tablespoon of the sugar. Set aside until bubbly, 5 to 10 minutes. Meanwhile, heat the milk in a small saucepan over medium heat until bubbles start to form around the edges, about 6 minutes. Remove the pan from the heat, and stir in the butter, the remaining sugar and the salt. Set aside to cool, about 10 minutes. Fit the mixer with the paddle attachment, set on medium-low speed and pour the milk mixture into the yeast mixture. Add the 2 beaten eggs. Gradually mix in the remaining flour, and beat until a soft dough forms. Increase the speed to medium-high, and beat until the dough pulls away from the sides and forms a ball, about 5 minutes (the dough will be sticky). Transfer the dough to a lightly floured surface, and knead, adding more flour as needed, until smooth and elastic, about 5 minutes. Put the dough in a lightly buttered large bowl, cover and place in a warm spot to rise until doubled in size, about 1 1/2 hours. Line a baking sheet with parchment paper. Punch down the dough, transfer it to a lightly floured surface and cut it into 3 equal parts. Gently roll out each piece into a 16-inch-long rope. Transfer the ropes to the prepared baking sheet. Press the ropes together at one end, braid them, then gently tuck both ends under to form a long loaf. Cover, and let rise until doubled in size, about 1 hour. Preheat the oven to 350 degrees F. Brush the entire loaf with the remaining beaten egg. Scatter the almonds and nonpareils on top, concentrating them down the middle of the loaf (they will spread as the loaf bakes). Bake until the loaf is dark golden brown and sounds hollow when tapped, 50 to 60 minutes. Let cool about 30 minutes before slicing.